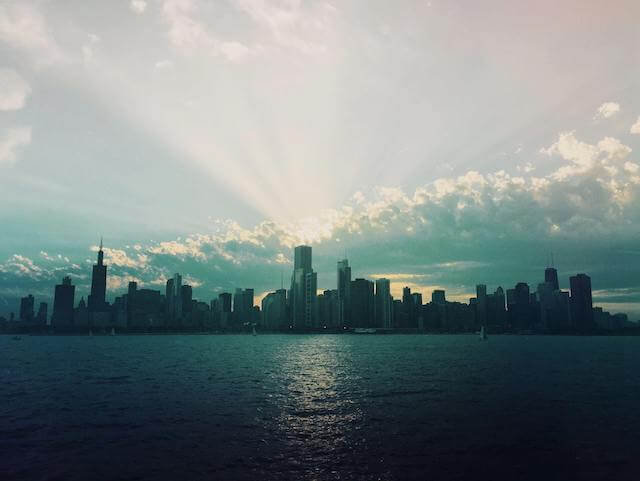 B2B buyer behaviour has changed in recent years, as buyers delay their interaction with vendors until much later in the sales funnel.
Now is the time to change your approach to the traditional sales funnel.
This new "tipping point" occurs when the buyer understands their problem, has researched and found their own solution without your help.
In today's market, 67% of the buyers journey is now done digitally as buyers actively seek to self-educate via the Internet. This makes reaching directly out to a B2B buyer much more difficult.
And with so much advertising noise bombarding us, it's no wonder that we are filtering out what is irrelevant.
It is clear that buyer behaviour is moving outside of the traditional definition of the sales and marketing funnel.
So How Should A Business Adapt To This New Buyers Journey?
The traditional sales funnel maps the journey a person takes from prospect to customer. Although it is typically called a sales funnel, marketing has always be at the heart of the funnel.
The concept of a traditional sales funnel is old and offers a simple metaphor to think about the path or buying journey a person takes.
Starting at the top of the funnel attracted in by marketing, and then nurtured towards a purchase as they progress down the funnel.
The goal of marketing is to identify and create moments in a target audiences buying journey to influence a purchase decision.
"Moments of truth"
Marketing has always sought to create and recognise these "moments of truth", when a buyer is most receptive to your communication. Marketers need to manage these touch points to show how their product or service addresses a prospects needs better than anybody else.
In order for businesses to connect and educate an audience searching for answers, it needs to understand the buying journey details and adopt a buyer-centric strategy, targeting the specific needs of the buyer.
Changes in the sales environment
The sales environment is witnessing a distinct shift away from the traditional method of B2B prospecting (outbound sales) to one that is more buyer-friendly (inbound).
As buyers – before making a decision we tap into multiple sources; 60% of us rely on Word Of Mouth – friends – social media, 49% on customer references and recommendations, 47% on analyst reports, and 44% on media articles (source HubSpot Inbound Sales Report 2016).
Traditionally as sellers we have pushed out communications using outbound tactics that suited our needs rather than what the buyers wanted.
Whereas today buyers are far more likely to ignore that message and see it as biased and mostly prefer online sources for self-research.
Understanding buyer attitudes, motivations and digital behaviour is crucial in creating a road map on how to grow the number of qualified visitors to your website.
What Is The Value Of A Sales Funnel?
Typically a prospect or visitor to your website won't buy from you at first glance, it takes time to establish a level of trust and assess your solution. The funnel shows the different stages that are passed through as a relationship evolves between the buyer and the seller.
The chart below shows the buying journey (from Awareness to Decision) that your B2B sales prospects theoretically take. They go from realising that they have a problem right through to shortlisting vendors and making a purchase.
A funnel visualises the journey and helps you apply your marketing and sales efforts accordingly.
For example, don't talk about product features at the beginning of your relationship when visitors aren't familiar with your brand or products or don't realise that they actually have a need.
How does the sales funnel look?
The sales funnel will look different for each type of business, but we can think in common terms of the structure with a top of the funnel (TOFU), middle (MOFU) and bottom (BOFU). Companies may also have created their own names for particular stages relevant to their type of business.
The funnel traditionally has been a linear process where visitors start at the top of the funnel and then make their way down through different stages.
There are more people at the top, making their mind up as to whether to continue, compared to the bottom of the funnel where there will be a small number of those ready to buy.
Customer touch points
A sales funnel, the path to purchase, the buyers journey and customer journey mapping are to a great extent interchangeable. As they all refer to a series of channels that customers touch from prospect to purchase.
Typically all of these approaches cover a buyer who is:
Contemplating making a purchase
Researching a shortlist of options
Buying a particular product
Experiencing on-boarding, hopefully becoming a repeat customer and then a brand advocate
The problem with much of the sales funnel conversation is that it describes a funnel with a definite end – buy or not buy.
If you don't buy, you must be either stuck in the middle or fallen out of the bottom – feels a little bit like Alice in Wonderland. In the context of sales, just because your customer has reached the end of the funnel it does not mean the end of a customer's journey.
Self-Research & Inbound Marketing
Without fail we all go online now to research a decision before making a purchase. As a result sellers are now gradually understanding the need to change their approach to sales and marketing and the power of content marketing.
The inbound methodology as an approach attracts website visitors by creating interest with content that helps visitors to identify their symptoms.
Today the B2B buyers search activity fuels far more research online than ever before and means that they enter the sales funnel far better prepared.
These changes in buyer behaviour mean that marketing needs to educate and qualify leads as they enter the sales funnel, and then nurture them until such point that they want to have direct sales contact.
For a lead generation program, this means that marketing can have longer exposure to a lead before they are eventually handed over to sales as a "warm prospect" ready to be contacted.
The Inbound Marketing Model
"Inbound marketing is about using marketing to bring potential customers to you, rather than having your marketing efforts fight for their attention. Sharing is caring and inbound marketing is about creating and sharing content with the world. By creating content specifically designed to appeal to your dream customers, inbound attracts qualified prospects to your business and keeps them coming back for more." (HubSpot)

Source: HubSpot
The Four Stages Of The Inbound Methodology
It should be no surprise that today digital dominates the buyers path to purchase. Customers are connected to digital touch points throughout their buying journey. The inbound methodology breaks down into four stages, from starting out a relationship to becoming an advocate for your brand.
To be able to prepare your sales and marketing efforts through-out the sales funnel there are a few questions that you should consider:
Who are we selling to?
What are we selling?
How do we define the MQL (marketing qualified lead) and SQL (sales qualified lead)?
How do companies in this marketplace buy your product/service?
Who should you expect to participate in the buying process?
To help you plan your actions around the sales funnel, we have suggested some activities over the four stages:
Stage 1: Awareness
Goals: Indirect customer acquisition; increase brand awareness
Tactic: Educational content rather than selling mode. In this first phase of content marketing, you're trying to lift the awareness of your brand and product.
In some cases, if you are a start-up or launching a new product you may also be trying to educate the market to generate a level of curiosity. The top of the funnel is focused on generating visitor traffic to your website and showing an understanding for your buyer personas and what they are trying to solve.
Types of content that work well during this phase include: Blog posts, white papers, social media your website, webinars, e-books or research from third parties.
Getting awareness of your product or service is always an uphill struggle, plus depending upon how a visitor arrived to your website either through organic search or may be paid advertising it will have an impact on how qualified they are and the subsequent conversion rate.
With the inbound methodology the idea is to draw leads to your website by showing how you understand your customer's problem, and at this stage in the funnel your goal is to build their interest and trust.
Through education and providing advice a buyer will understand the added value that your company and its solution would bring as you start to nurture them through the funnel.
Stage 2: Convert
Goal: Direct customer acquisition; communicate what makes you unique
Tactic: Start building trust and a level of competency in your offering – but no "sales talk"
Hopefully buyers start to associate your brand with a particular solution as they are able to define their own problem through the symptoms that you have detailed. This is the time when you want to produce content that helps them evaluate you and your products.
The customer is now committed to research and understanding all the available approaches and methods to solve their problem.
At this stage people will be looking for: Blogging, calls-to-action, landing pages and forms for content, case studies, etc.
Stage 3: Close
Goal: Customer sales
Tactic: With most companies when it comes to decision making it involves usually a selected group of stakeholders who together make the decisions, so it is important not to build a message that focuses on one role within an organisation.
Within the B2B environment there can be between 3 – 5 people involved, take this into account when you are producing content for different points-of-view. With all of the content that is available online, buyers are well prepared in terms of information, research and lists of suitable vendors.
You will need to prepare content on: testimonials and endorsements, reviews, product descriptions, etc.
Stage 4: Delight
Goal: Customer loyalty
Tactic: Inbound companies continue to engage with, delight, and (hopefully) upsell their current customer base into happy promoters of their brand. Keep track of the social conversations that matter and listen to your customers' questions, comments, likes, and dislikes – and reach out to them with relevant content to keep them informed.
What Is Wrong With The Sales Funnel?
With B2B buyers predominantly doing their own research, critics have suggested it is time to change the traditional view of the sales funnel. Linearity in mapping the customer journey can be limiting because it assumes that all customers begin at the same place, moving through similar steps, and finishing at the same end point.
A common mistake is to assume that if a visitor doesn't progress from one stage to the next that they must have dropped out of the funnel. However, there will be some visitors who are taking their time, interested but not ready to make a move to the next stage.
In today's digital world buyers do behave differently. Moving around the funnel from one stage to another, entering and leaving at different points. This fluidity is contrary to the idea of a traditional funnel which has only two openings, one at the top and one at the bottom and ignores any leakage through the sides.
The traditional approach to a funnel shows marketing leading a consumer through the top of the funnel and handing off further down for sales.
Buyers are keen to do their own self-research, so marketing needs to take more responsibility to provide educational content to nurture prospects before they reach out for a direct sales contact.
So the influence that marketing has in the sales funnel is expanding, because marketing is handing-off contacts to sales at a later stage in the buying journey.
Prospects are also moving across multiple devices and channels, as they jump into and out of the funnel at different stages.
In the same sales funnel you'll have visitors entering part way through the funnel, some will exit early, some will skip stages, and others will engage multiple times at the same stage – all in a non-linear way.
Take Away
It's Time to Transform Your Sales & Marketing Strategy
Most buyers are already in the Awareness stage of their buying journey when they enter the sales funnel having already done their own research.
But today, the traditional funnel lacks scope to capture all the various digital touch points and decision making factors, coupled with larger product choice, multiple channels and a buyer keen to undertake their own research.
It is a bad habit but most companies focus on either end of the funnel — building awareness at the top or closing sales at the bottom. Understanding more about your customers by creating a buyer persona reveals the format, style and communication preferences of your buyers.
Focusing more on the consideration phase of the buyers journey, effectively the middle of the sales funnel can help your business be more effective in nurturing sales prospects as content creation at this stage offers an opportunity to engage with leads without selling to them.
To help you research further about your buyer's journey and how to attract, nurture and close sales leads let's have a conversation to understand how we can help.