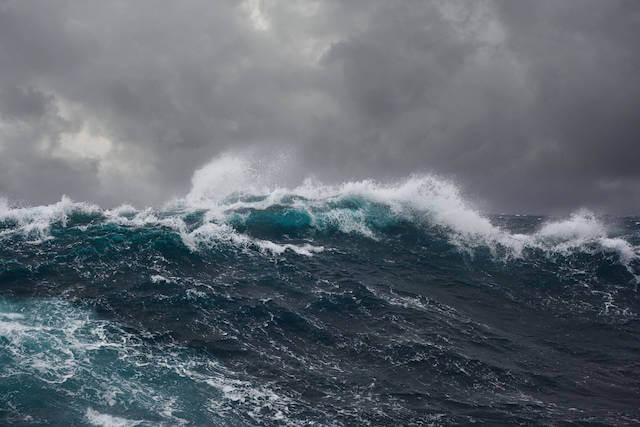 What's the new "tipping point" in a B2B buyer's journey.
Business-to-Business (B2B) buyer behaviour has changed a lot in recent years, as buyers delay their interaction with vendors until much later in the buying journey.
This new "tipping point" occurs when the buyer, fully understands the pain that they need to address, and is confident from their predominantly online research what steps they need to take to find a solution.
How can Companies Respond to the New Buyers Journey?
The sales funnel maps the journey a person takes from prospect to customer. Although it is typically called a sales funnel, marketing has always be at the heart of the funnel.
The concept of a traditional sales funnel dates back centuries and offers a simple metaphor to think about the path or buying journey a person takes to make a purchase big or small, complex or simple.
If marketing has one goal, it's to target an audience at that one moment in their buying journey when there is an opportunity to influence who they are considering to buy from.
Marketing has always sought to create and leverage these "moments of truth", when a buyer is most susceptible.
Marketers need to manage these touch points to show how their product or service addresses the customers needs better than anybody else, what makes them different, and why they do it.
Understanding buyer attitudes, motivations and digital behaviour is crucial in creating a road map on how to attract and nurture qualified visitors when they reach your website.
What is the Value of a Sales Funnel?
Typically a prospect or visitor to your website won't buy from you at first glance, it takes time to establish a level of trust and assess your authority.
The chart below shows the buying journey (from Awareness to Decision) that your B2B sales prospects would take as they go from realising that they have a problem right through to shortlisting vendors and making a purchase when they have found the right solution.
A funnel visualises the journey and is used to understand more about how and when to apply your marketing and sales efforts accordingly.
The sales funnel will look different for each business, but we can think in common terms of top of the funnel (TOFU), middle (MOFU) and bottom (BOFU). Companies may also have created their own names for particular stages relevant to their business sector.
A sales funnel, the path to purchase, the buyers journey and customer journey mapping are to a great extent interchangeable. As they all refer to a series of channels that customers touch from being a prospect to becoming a customer.
Typically all of these approaches cover a buyer who is:
Contemplating making a purchase
Researching a shortlist of options
Buying a particular product
Receiving experience from on-boarding to becoming a repeat customer to being a brand advocate
The Power Of Self-Research & Inbound Marketing
Without fail now as consumers or buyers, we go online first to do our research – instead of heading off to the corporate website. Then, armed with the right information we can make an informed purchase decision.
This change in buying habits has meant that sellers are now gradually understanding the need to adopt a new strategy on how to engage with buyers rather than chase after them.
The inbound methodology sets out to attract website visitors by creating interest with content that educates and informs a particular audience.
Today, the B2B buyers search activity fuels far more research online than ever before, so you need to make sure that as a business you have an online presence, especially at the moment that the buyer is doing their research.
These changes in buyer behaviour mean that marketing needs to educate and qualify leads as they enter the sales funnel, and then nurture them. For a lead generation program, this means that the marketing role is extended, handing over later to sales a "warmer prospect".
The Inbound Marketing Model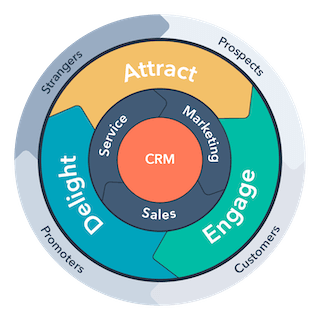 The Three Stages Of The Inbound Methodology
It should be no surprise that today digital dominates the buyers path to purchase. Connected customers use it for research, information and education. Each digital touch point throughout a buying journey plays a role in shaping a buying decision.
The inbound methodology breaks down into three stages the buying journey, from starting out a relationship to ultimately becoming an advocate for your brand.
So to help you plan your actions around the sales funnel, we have suggested some activities for the four stages:
Stage 1: Attract
Goals: Indirect customer acquisition; increase brand awareness amongst those that would be interested in your product.
Tactic: Educational content to lift the awareness of your brand and product for your target audience. You attract more of the right customers with relevant content at the right time.
In some cases, if you are a start-up or launching a new product you may also be trying to educate the market to generate curiosity in your solution. The top of the funnel is focused on generating visitor traffic to your website and showing an understanding for your buyer personas and what they are trying to solve.
It's all about showing your prospects they can trust you to help them solve their problems.
Types of content that work well during this phase include: Blog posts, white papers, social media your website, webinars, e-books or research from third parties.
With the inbound methodology the idea is to draw leads to your website by showing how you understand the buyer's pain, and at this stage in the funnel your goal is to build their interest and trust.
Stage 2: Engage
Goal: Direct customer acquisition; communicate what makes you unique and why you do it.
Tactic: Start building trust and a level of competency in your offering – without the "sales talk"
When using inbound strategies to engage your audience, ensure you're communicating and dealing with leads and customers in a way that makes them want to build long-term relationships with you. Sell to your prospects in the manner that they want to buy from, you are listening more at this stage than you are talking.
This is the time when you want to produce content that helps a visitor to evaluate your brand and solution.
The customer is now committed to research and understanding all the available approaches and methods to solve their problem. At this stage people will be looking for: Blogging, calls-to-action, landing pages and forms for content, case studies, etc. to help them in their considerations.
Stage 3: Delight
Goal: Customer sales – show me the money
Tactic: With an ever increasing number of stakeholders involved in a B2B sales process, it means that a business cannot rely on one single message – it need to appreciate the different agendas at play.
Within the B2B environment there can be between 3 – 5 people involved, take this into account when you are producing content for different points-of-view.
You will need to prepare content on: testimonials and endorsements, reviews, product descriptions, etc. In today's digital world buyers behave differently. Moving around the funnel from one stage to another, entering and leaving at different points.
Your role is to ensure customers are happy, satisfied, and supported long after they make a purchase from you. So it is vital to track the sentiment of buyers, to gauge when is the right time for them to be open to buy again, and how you can use their positive experience for referrals and third party endorsements.
Take Away
Most buyers are already in the Awareness stage of their buying journey – before they engage with salespeople, having already done their own research.
So, to build trust and credibility inbound marketing can help shorten the sales cycle even for a complex B2B sales process.
But there are some steps to follow:
Engage earlier in the sales process with an educational focus (listen)
Build trust by providing value rather than selling (advise)
Be visible and proactive online when businesses are searching for content (online visibility)
Think about your offering as a solution to a particular problem – what's the story that you can generate? (storytelling)
Give thought to the language that a prospect would use to search on that problem i.e. the long tail keywords, and what are their trusted "go to" sources of information? (keywords)
Align your marketing messages with the stages in the buyer's journey
Try to remain "top of mind" when businesses are at the decision making stage (thought leadership)
Read more about the various solutions we offer to help your business meet the challenges you are facing.