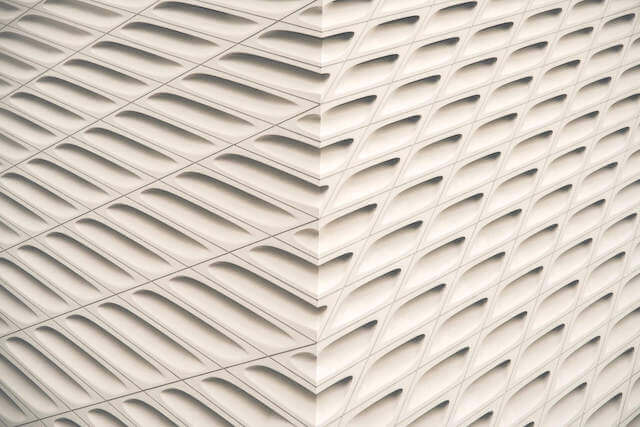 Many B2B and especially technology companies are being lulled into thinking they're already doing many of the right things because traffic to their website is high.
Transform your digital marketing
But the problem tends not to be volume of traffic but more a lack of conversion due to unqualified visitors.
A visitor to your website will probably give you at most three seconds, and by then they will have either worked out whether to stay and explore or feel like they are in the wrong place and leave.
Today many companies are lagging behind the curve when it comes to fully exploiting digital channels and platforms to shape their marketing and sales strategies.
And that's a problem, because the nature of the digital challenge is evolving rapidly and challenging the traditional approach to doing business that many companies are hanging on to.
It's Time to Transform Your Marketing
With the Internet and social media revolution continuing at a pace, there is a continuous pressure now on companies to become more buyer-centric.
Today, buyers do not have to rely only on a sales person's insights or corporate sources to learn about products and services, this information is readily available a few clicks away – online.
47 percent of buyers view three to five pieces of content before engaging with a sales rep. (Demand Gen)
51 percent of B2B buyers rely on content to research their buying decisions. (Demand Gen)
With so many touch points now in the buying journey the sales cycle is becoming longer and more complicated.
Budgets are tighter, more vendor options to consider, more stakeholders and a risk averse culture all contribute to a challenging buying process.
The Internet and access to cheaper technology through SaaS (software as a service) have been leveraged by smaller businesses to adopt tactics and strategies that were at one time the preserve of larger companies.
There are a number of other factors that in my mind have changed the way we buy and sell nowadays, where the mantra is shifting to selling how you solve a problem rather than the product itself just like the inbound methodology (See below).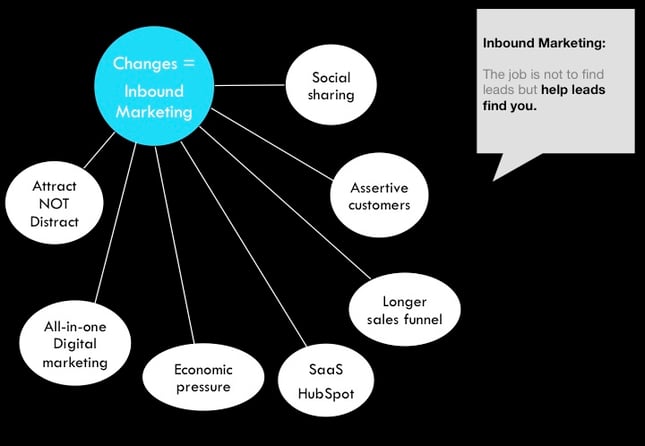 The Changing B2B Sales Process
For those industries with a sales process that is complex and difficult to maintain control over the buying process is further complicated by the increase in the numbers of B2B buyers "self-researching".
It is critical that your business can be found amongst the huge amount of online content that buyers use in their decision making process. Because even before a sales person has started to get ready to make contact, prospects are already 57% of the way through the sales process.
Key issues to consider:
Not taking seriously enough the impact that the Internet has had on a buyer's decision making process
When eventually having contact with the buyer trying to sell rather than offer advice first
B2B demand creation that has become increasingly complex
Changes in buyer behaviour requiring marketers to focus on a buyers' needs and preferences throughout their buying cycle
Doing B2B Business Has Changed – Have You?
To run a successful business today you need to understand where your customer's pain aligns with the solutions your business provides. And you need to work out how you're going to create and distribute content that your target audience is searching for to address challenges or opportunities.
Creating a buyer persona is a key step in preparing for an inbound programme, it digs deep into how your ideal buyer behaves and their digital interaction preferences and habits.
The Buying Journey Goes Digital
When a B2B buyer decides to buy, what might seem like a simple transaction can actually be a intricate set of many interactions, especially when the buyer has a range of alternatives to assess or symptoms they are not sure about.
This buying journey typically has three phases: Awareness, Consideration, and Decision (see below):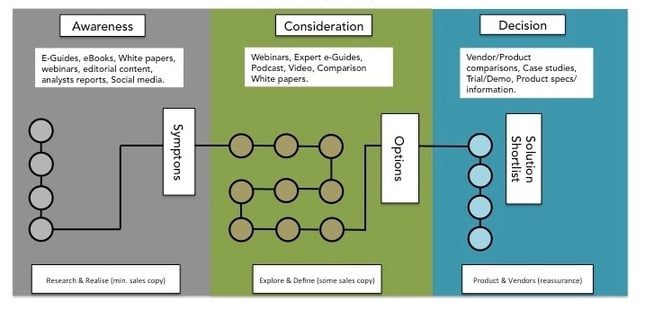 The buyer's journey can be used to pinpoint the behaviour and needs of your buyer personas at each stage of their journey. For example, may be they are just starting out and need to be aware only that they have an issue that needs to be addressed rather than your company trying to provide an answer prematurely.
Today's Marketing & Sales Priorities
According to HubSpot's State of Inbound report, B2B marketers today are focused on converting the visitors they attract into leads and customers; growing website traffic, followed by increasing revenue from existing customers.
Sales need to sell more, improve the efficiency of the sales funnel and reduce the length of time in the sales cycle.
So if Sales & Marketing are going to be effective and achieve their objectives what needs to change?
Outbound vs. Inbound Behaviour
Outbound or traditional marketing does have its benefits, especially for larger companies that have enough budget to fund more tactics to drive traffic and reach.
But changes in B2B buyer behaviour are forcing companies to adopt a strategy that targets a buyers' specific needs and preferences throughout the buying cycle.
The inbound methodology attracts an audience and grows attention organically by generating website traffic using educational content that visitors are searching for depending on where they are in the buying cycle.
What Is Outbound Marketing?
Outbound or traditional marketing involves distributing your marketing message, not necessarily at the time or place that is relevant to an audiences needs.
By pushing a "one way" message there is no way that you can be sure at what stage your prospect is at in their buying cycle.
There is often a mis-match between how sellers communicate and buyers source and digest content. Typically sellers have relied on outbound tactics to get their sales messages across, whereas buyers are using online methods to do self-research to educate themselves.
The costs associated with outbound marketing are often out of reach for smaller businesses and inbound marketing tends to be less expensive as a cost of customer acquisition.
If your company is coming out of digital hibernation, then you'll need to begin your digital transformation and address the following:
Which combinations of digital channels and platforms are the most effective when it comes to reaching your buyer personas?
How can these channels be harnessed to create value for the company and engage with customers?
Which digital touch points should your company focus on to generate the most influence?
A company web site has probably the strongest chance to positively influence a customer to engage further.
When you consider the behaviour today of a B2B buyer, we know that they can be difficult to reach through traditional marketing methods and prefer to educate themselves using primarily online sources.
Recent research from Demand Gen B2B Buyers Survey Report 2016 found that the main sources of information that buyers reference were taken primarily from; web search activities, vendor websites and insights from peers (see chart below):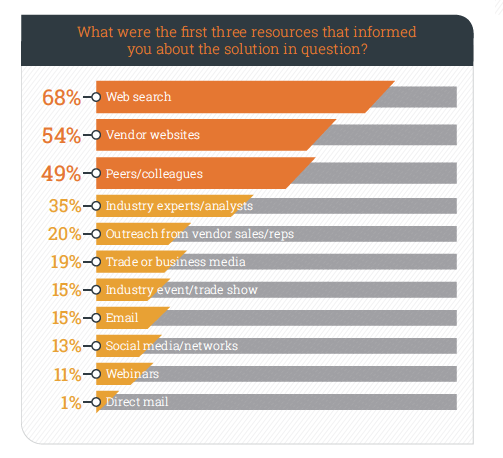 The Value Of A Sales Funnel
The buying journey is not a onetime process as visitors move between various stages of the buying cycle at any given point in time. For your company, it is vital to keep customers coming back until they are at a point when they are ready to buy.
A sales funnel aids visualisation of the different stages in the buying journey. The structure of the sales funnel will be different for each business, but we can think in common terms of top of the funnel (TOFU), middle (MOFU) and bottom (BOFU).
The funnel tracks sales prospects as they go from becoming aware of your brand and entering at the top to making a purchase, hopefully becoming an advocate of the brand and dropping out at the bottom.
For each stage, there is a variation in the content message and format as information needs become more specific to addressing particular problems, pains and priorities the further you travel down the funnel.
Key Considerations – How Do I Know If I Have A Problem?
Normally if you are experiencing inconsistency in terms of sales, not able to generate sufficient leads for your pipeline or losing out to your competitors, then you are probably experiencing the following:
Over reliance on cold calling for new business development
Losing a top of mind position with your prospects or existing customers – because you sell rather than educate
Not knowing how to connect with leads who aren't ready to buy just yet
A lack of know-how on how to provide advice and build trust
Knowing how to nurture leads that are just starting their buying process
Insufficient number of leads for your B2B sales pipeline
A long and complex sales cycle to manage
A lack of using your customer data
Not enough resources allocated to create content to lead the buyer along your sales funnel
No defined lead generation and nurturing programme
Inability to track the lead-to-deal-process from start to finish
Sales and marketing teams not working together effectively
A focus on traditional sales and marketing methods
So What Can We Do Together?
Across the entire customer journey, every touch point is a brand experience and an opportunity to influence leads as they become prospects and then buyers as they pass through the sales funnel.
Failure to optimise your digital channels can result in under performance. If your company is starting out on a journey of digital transformation let us know if you need to know more about how to complete that journey.