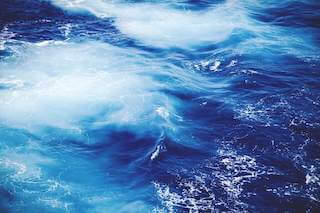 Once upon a time, marketers approached customers with a one-size-fits-all message not necessarily at the right time or matching their audiences needs but with a hope that the message would resonate with somebody.
This was regarded as traditional or outbound marketing where a message is "pushed out" rather than targeted to the specific needs of a prospective buyer.
Today, those same buyers expect so much more from a seller, ignoring or filtering out those that offer nothing more than advertising noise.
B2B buyers are in an especially strong position now, there are far more vendor options available, the cost of switching between vendors is not so cost prohibitive and they have the power to dictate terms.
But many businesses are today still struggling with changing the way that they do business to the way that the customer wants to buy.
What Is Inbound Marketing?
The purpose of Inbound Marketing is to make people aware of your business by creating and sharing relevant content that your audience finds educational and informative as they search for solutions.
From attracting visitors to helping to close sales, a comprehensive inbound marketing programme brings your marketing and sales activities together. It helps leads find you as per the HubSpot methodology outlined below.
Across the entire customer journey, every touch point is a brand experience and an opportunity to influence leads. By using an inbound marketing approach as a business you are able to consolidate your efforts, combing you marketing, sales and CRM all in the one place.

So How Can You Avoid Failing At Inbound Marketing?
1. Don't Be In A Hurry
Inbound marketing is a long term commitment, not just a campaign.
There is a lot of marketing dialogue around "how many times must somebody see my content before they change their behaviour?" It's easy to get swept up in the debate on who's right? However, the debate is completely irrelevant when it comes to inbound marketing.
To gain traction with inbound you have to build your "inbound house" brick by brick. That means that you need to think how you can slowly put into place the foundations of; the right message for the right audience, and then through engagement with your visitors add more bricks through relevant and highly valued educational content.
You cannot abandon the methodology if you do not see a short term jump in ROI, because leads in the sales pipeline need to be nurtured at their own pace – you can not force them into closing a sale if they are not ready.
The more time you spend educating and providing added value through your expertise, the more trusted you will become and be seen as a credible resource when the time comes to make a purchase.
So do not try and rush this – eventually, an educated lead will see something relevant that triggers a response from consideration to purchase. So the inbound approach may appear to take longer, but it does organically build your authority and ultimately will drive down your cost of conversion.
Crafting an inbound marketing programme requires audience targeting, multiple forms of content based on lifecycle stages and the focus to create the amount of content needed to continually engage your visitors.
To help you work out how to allocate your time to the inbound sales and marketing efforts we have put together a checklist. In an ideal situation to get the maximum benefit from your investment in inbound, you should allocate up to 10 hours per week.
2. Why We Get Buyer Personas Wrong
Reaching and converting an audience with content is becoming harder to do. With so much content, distributed over so many marketing channels it is tough to compete for attention.
So a "one size fits all" approach to your content creation is not a wise investment, especially with increasing numbers of B2B buyers using the Internet as their primary source for making informed buying decisions.
If you are going to attract a qualified audience to your website you will need to know what their motivations are, their digital behaviour, and understand the challenge or problems that they are trying to address. This insight can be gained by creating a buyer persona of your ideal buyer.
A buyer persona is a semi-fictional characterisation that helps sales and marketing to understand what people want and how to interact with them based on their digital preferences.
Developing a buyer persona is a great learning experience especially for those who are new to marketing, it allows you to "walk in the shoes" of your buyers.
So where do we typically go wrong:
They're too shallow: Sometimes they're mistaken for a segmentation strategy and we substitute a job title rather than the details behind the title.
Gathering dust: Often, buyer personas are forgotten about and never updated.
Out of date: Descriptions must keep pace with changes in the marketplace.
Navel gazing: Buyer personas must not reflect the company's own assumptions and bias.
Cross department fertilisation: Combine various views to get a true picture of the customer.
Numerous stakeholders: You need to consider how buying decisions are made, and address the fact that today there are multiple influencers.
They're not relevant: To be effective, buyer personas must contain information that is relevant to your business.
They don't translate to tactics: Buyer personas need to have a practical application – not just theory.
Don't get too personal – the focus should be on how the buyer makes a decision.
Stop basing your analysis on a "gut feeling" – talk to buyers and get their insights rather than use guesswork.
Don't develop too many buyer personas, because you will end up with too much work to be able to reap the benefits of a targeted approach.
To help you come up with your very own buyer persona we have put a checklist together for you to use.
3. Providing Prospects With What They Want
Typically a prospect or visitor to your website won't buy from you at first glance, it takes time to establish trust.
The sales funnel lays out the various stages (depending on your type of business) that are passed through as a relationship evolves between the buyer and the seller. As a visitor moves along the funnel, the content used to address their questions and nurture engaged prospects should be different at each of these stages.
Your B2B sales prospect isn't about to make a snap decision though. Typically, most aren't in a position to make a decision on their own as they are one part of a complex buying process.
With so many touch points now in the buying process the sales cycle has become longer and more complicated and needs content to meet the specific needs of those in the sales funnel.
By creating content that is high quality, compelling, and relevant, you can engage your site's visitors in a meaningful way and build trust.
When content resonates with someone, it feels personal and authentic – hopefully to be shared and commented on.
The chart below shows the buying journey (from Awareness to Decision) that your B2B sales prospects theoretically take as they go from realising that they have a problem right through to shortlisting vendors and making a purchase.
As businesses we need to be aware that each customer can be different, so we need to be sensitive to what they are looking for to help them make a decision, rather than only think of closing a sale.
4. Marketing Automation To Improve Your Impact
A successful marketing automation programme triggers sales and marketing activities based on customer interactions.
Marketing automation enables your business to:
Receive more and better quality leads for nurturing
Improve on overall marketing productivity
Work on improving conversion rates
Marketing automation has grown beyond an email platform and become more integrated into customer lifecycle marketing.
By combining emails with other marketing channels there is an opportunity to grow awareness, improve engagement and customer acquisition. Often businesses start with the right intention with marketing automation but fail to get the most out of it. There is a need to think through the customer journey and work hard on understanding the purchase motivations of buyer personas. These messages and keywords can then be reflected in the copy writing of emails and the structure and timing of emails in an automation workflow.
Starting with Strategy, developing Lead generation programmes, Optimising for the best fit and then working hard towards a strong ROI (see chart below) is how we use Marketing automation to help companies grow.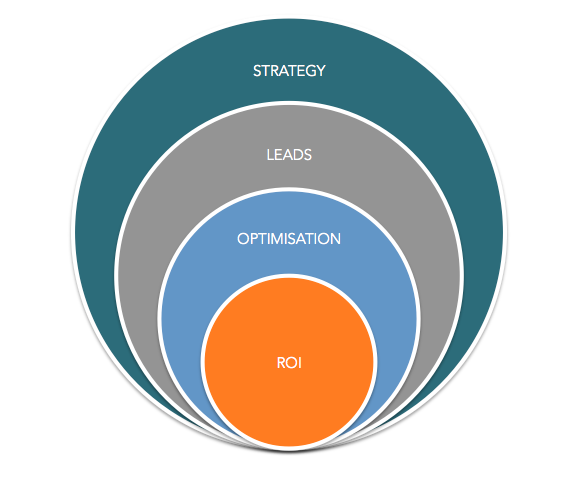 5. Lack Of Social Sharing
The benefits of sharing engaging content throughout your social media channels can be valuable.
Social media enables your business to engage and develop personal relationships with followers, spread your marketing messages, and strengthen your brand positioning.
Social selling can be about engaging with decision makers via online conversations or it could be you making a contribution to an online group or community where you are a subject matter expert.
Social prospecting involves monitoring social networks for signs of potential customer interest, news and updates. The role of a social seller is to build relationships by offering advice and not selling.
Social media is an ideal platform to share your conetnt and if you want to start your journey into social selling an important first step is to decide which social media platform you want to focus on. You'll need to figure out where your customers are most likely to be and how to establish a presence there.
You will need to create a Social media marketing plan to help you stay on top of updates, interactions and remain engaged with your community. It could be that you find a tool that enables you to manage all your social media posting in one place.
Get your Social Media marketing plan

6. Lack Of Segmentation In What You Do
Segmentation has been popular in the past when it was seen as an innovative way to boost conversion by ensuring at least some of the content being sent to subscribers was relevant.
As a business your responsibility is to share content that is relevant and valuable to your subscribers through their buying journey.
There are a number of different ways to start segmenting your email audience. For a segmentation method to work, however, it needs to reflect two things: Your core business strategy and what you know about your typical buyers' purchasing decisions.
You can create an email masterpiece, but if it doesn't resonate with your subscribers in terms of timeliness or address their "pain or gain" points then it will be a lost cause, wasting time and money.
7. Lack Of Tracking Or Follow Up
It's critical to have an effective method of tracking your performance.
For every digital marketing campaign you execute, measure the rates of traffic, engagement and acquisition it generates.
Set up regular reports that track the metrics because you can continuously improve performance and work out your most effective approach to conversion.
Most businesses can identify their long-term marketing goals using the SMART goal framework:
Specific – A goal should be easy to understand, who is responsible and the desired outcome
Measurable – Your goal should have concrete criteria for measuring progress
Attainable – Your goal should be realistic and possible to reach
Relevant – Your goal should matter to your business
Timely – You should have an expected date to reach the goal
8. Mapping The Customer Journey
To get a positive return on your sales and marketing efforts, you'll need to offer value and a great customer experience (CX). Being able to offer advice and value to prospects regardless of whether they're ready to buy is a great strategy to build credibility and authority in your business.
In terms of distribution you may be able to sell your product or services in many different places. However, it is important to understand how visitors find you, and the journey that takes them from the first touch point through to becoming a customer.
Customer journey mapping enables you to see all the interactions and facilitates a common understanding of various points of friction along the path to purchase.
Questions to consider in planning a customer journey mapping project are:
Where do you have most interaction with customers?
Is there a particular order to your customer's journey?
Any particular touch point that you could influence more than the others?
Do you know which source your customers are accessing to research buying information on your products and services?
The idea of 'understanding a customer journey' is being able to track and visualise how individuals engage and interact with your business across multiple channels, and to decide where to focus your efforts to influence buyers.
A customer journey map needs to take into account both the emotional and rational thoughts that go into a purchase. The mapping should identify the gaps, how you are missing opportunities, falling short on service, etc.
9. Changing "all about me" To A Buyer-Centric Mindset.
The most important step for developing an inbound sales perspective is to define the buyer's journey to be able to place the buyer's needs first.
Most buyers are already in the Awareness stage of their buying journey – before they actually engage with salespeople having already done their own research.
As a salesperson the focus should first be on those buyers that are active, who may have recently visited your website, filled out a form or opened a salesperson's email. Talk to customers that are a good fit and track key events that trigger your interest i.e. new recruitment, firms seeking new investments, expanding business, etc.
The following are ways to take a more buyer=centric approach:
Use content as a way to educate prospects, to open up dialogue on challenges rather than sales.
Set up lead scoring and workflows to ensure that particular activities trigger your attention.
Become a trusted "expert" by sharing insights and offering advice.
Learn how to recognise when prospects are open to engage.
Implement and use a sales CRM tool to manage and record your actions.
And think of sales as relationship building, people rather than decision makers and offering advice rather than closing a sale.
The journey is typically divided up into stages that recognise a buyer moving from Awareness, to Consideration and finally to the Decision stage. As the buyer passes through each stage there would be a different need for information.
10. A Lead Generation Programme
For your business to generate leads, it must possess the ability to attract new prospects into your sales pipe-line.
Lead generation is the process of attracting, engaging and converting visitors into leads – those who have "raised their hand" in some way to show interest in your business. Lead nurturing tactics and content marketing will help your business to advance those leads along their buying journey.
To get the most out of your lead generation programme you need to employ a complete promotion and distribution strategy using a combination of owned, earned and paid media channels to amplify the reach of your content.
To succeed with generating leads with your content marketing follow these steps:
Make sure you have written a strategy and laid down a plan.
Research which content formats work most effectively for your buyer personas.
Develop your theme or content type for the format you are producing.
Share your content across you social networks.
Understand and utilise the triggers for your network to share content.
Take Away
Whereas some businesses may still be in the habit of viewing their prospects as numbers in the sales funnel, the newly empowered buyer can see through this, especially in the transparent digital economy we have today.
By shifting your focus and impressing upon buyers the desire to offer advice first and foremost it can help open up the opportunity for constructive dialogue.
Inbound marketing can help you grow, and as we have said above – give it time and consolidate all your activities through it and you will see a positive return for your investment in time and money.