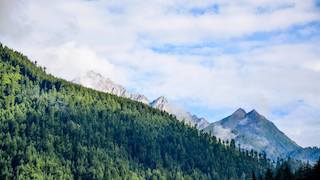 There comes a times when for a prospective customer to engage with you they need validation that as a business you are trustworthy and knowledgeable.
And the quality and relevance of the content you produce can reinforce and verify that your business does have authority an offering that solves a prospective customers problem.
The content marketing you work hard to create needs to keep in mind that prospective buyers are dubious about content taken from corporate sources, and are far more likely to trust information shared and endorsed by third parties.
Today the complex nature of the B2B buyers journey, with a growing number of touch points across multiple channels and devices adds complexities to doing business.
Often the reaction of buyers is to increasingly filter out or ignore content if it comes too early in the buying process or is irrelevant to their needs.
The path to purchase or buying journey, from start to finish, is rarely linear— it's like a game of "snakes & ladders" full of ups and downs.
But as a business if you are prepared to offer free advice and add value to a sales prospect regardless of whether they're ready to buy – it will build credibility and may offer more ladders up rather than snakes to slide down.
As a business you cannot afford to neglect content because it can directly impact your lead generation capabilities and worst-case dilute your sales conversion rates as visitors leave the site during those first few moments.
Plus – remember with the GDPR (General Data Protection Regulations) from May 2018, you will not be able to send a cold email a contact – you will have to work much harder at ensuring that you are able to attract a prospective customer to you rather than chase them.
Fueling your inbound marketing with content is going to be the most effective way to attract qualified traffic to your website.
Why Does Content Marketing Matter for a B2B Business?
Content marketing can be a cost-effective source of website traffic. It is a strategic marketing approach focused on producing and distributing content that attracts your target audience.
The goal is to distribute your content so that it grows organic website traffic, and with embedded links and calls-to-actions generates leads, educates prospects and increases your brand authority.
With increasing numbers of B2B buyers using the Internet as their primary source for making informed buying decisions, it is important to know your buyer personas online preferences and digital consumption habits.
Knowing the digital habits of your buyer persona is great, but to make sure you are on their radar at the right time you need to have provided a flow of quality content in the appropriate format and style for them to digest. Content that is targeted and relevant to the particular buying stage the prospect is at,
To get your production, distribution and analysis of your content flowing you need to create a robust content process.
So How Do You Create Content?
A good place to start is with an audit of the strengths and weaknesses (SWOT) of your current content. This should provide insights on filling out potential "content gaps" and identify the good content you have which you can refresh and reuse.
A content marketing Roadmap, from Stages #1 to #3
Use the different steps (9x in all) from our content roadmap to define your audience, create targeted content and then distribute and assess what you have achieved.
You'll need to create a steady stream of good content to see a return on your efforts. And since the competition is getting stronger, you'll want to continuously improve and evolve what you do and how you distribute it to reach your audience.

Start with A Content Audit
Auditing your existing content can help assess if you have the right content to match the needs of your buyer. Putting all this information onto one sheet can effectively keep all your team on board with what has been done, the status, location and gaps to fill.
Content has a number of different roles to play:
Content needs to be able to nurture and inform buyers as they move along their buying cycle (Awareness, Consideration & Decision)
Content need to help you fulfil your business goals by getting visitors to complete certain actions (for example Educational, Revenue Generating & Customer Experience)
And content must fulfil certain emotional objectives to get the prospective buyer on your side (i.e. Educate, Entertain, Inspire & Convince).
Writing a content brief, documenting budgets to themes to methods and goals will help you structure your approach to content creation.
At the same time you will need to define your target audience, tapping into your knowledge of the buyer's persona to segment and identify particular pain points that they will be looking to address – which you will use as keywords, titles and content drivers as a magnet to attract your prospects.
Content Roadmap – a summary:
Stage #1 – Content Brief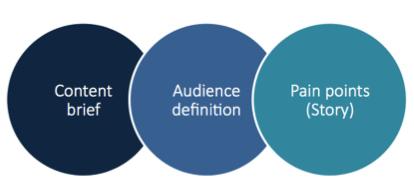 This is the starting point, so we need to make sure that we are producing content for the right reasons and it lines up with the rest of our sales and marketing strategy.
Consistency is the name of the game, so we want to have the right message across all our particular customer touch points.
Blog Editorial Calendar
You'll probably also need some help in creating an editorial calendar for the year ahead to plan who, what and when you are going to deliver your blogging content.
Content Editing Checklist
To make sure once you have started to produce content that it is "fit for purpose", it is a good idea to have some questions at hand to assess what you are producing is right for the audience and your content goals.
Stage #2 – Content Ideation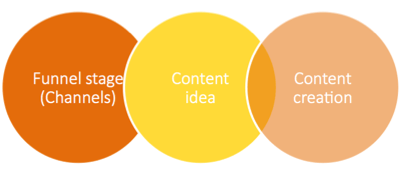 Once you have the brief, audience defined and their pain points identified, it is time to work on the content that will resonate with your buyer persona.
Now it is time to get creative, brainstorm some ideas and get into ideation mode. Don't neglect content you have already produced to see how it performed, identify sales triggers and remember to be creative in terms of using media that will appeal to your target audience and their digital "body language".
What Kind Of Content Should We Create?
A content plan should address how, when and on what particular platforms you want to publish your content. There are a number of considerations when planning; which category to use, target persona, mix of content (new- recycled), metrics, frequency of posting, format, etc.
To develop an effective content plan you'll need to have clearly defined your buyer persona to guide what is the appropriate content for your leads depending on where they are in their buying journey.
An example of a sales funnel below shows that for each stage of the buyers journey there are likely to be different content needs, as they prospective buyer travels further down the funnel the requirement is for more detailed content focused specifically on your solution.
A content plan should address how, when and on what particular platforms you will publish content. It will go beyond the type of content you'll create, it should also cover how much resource you'll need. There are a number of considerations when planning; which category to use, target persona, mix of content (new- recycled), metrics, posting frequency, format, etc.
The Buyer's Journey
To understand how to connect your content to your buyer's needs you can map out the journey a buyer takes from first getting to know you to becoming a buyer of your products and services.
The buyer's journey across all B2B industries and segments has evolved over recent years with the proliferation of the Internet. According to Google research, Business-to-Business (B2B) researchers conduct an average of 12 searches before they engage with a specific brand's website which means that companies have to try to be in front of the buyer over a lengthy and complex sales cycle.
Stage #3 – Review, Results and Re-purpose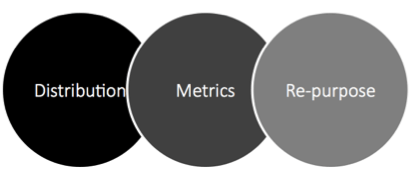 Now that you have started to create your content, the next stage is just as important – distribution. Use your buyer persona insights to target where your audience searches for information, their digital preferences and the level of interaction they expect.
With your content distributed now is the time to assess the impact, look at the metrics and review whether there is a need to make any amendments or look again how to increase your reach.
It is important to understand how your customers found you, and to map out their journey from the first point of contact, through to a sale, after-sales and hopefully to a repeat purchase. This can be a visual time line of stages and touch points that your customer passes through.
What Is Your Content Distribution Strategy?
Content distribution is a way to extend your reach by leveraging your networks and contacts to share your content. It's all about making sure the content you create gets found, read and shared by the right target audience.
A "rule of thumb" is to spend 50% of your efforts on creating the content and the other 50% on distributing it.
There are three ways of distributing your content – via your own channels (owned), other people sharing it voluntarily (earned) and paying to distribute it (paid). Below are some of the examples of these channels that you need to incorporate into your strategy.
Owned media
Blogging
Social media sharing / posting
Social selling
Website
Email / e-newsletters
Digital media (video, podcasts, webinars, presentation slides, etc.)
Earned media
Develop website backlinks and guest blogging invitations
Write press releases
SEO long tail keywords for organic search
Approaching influencers in the community
Ask customers to review products via social media, review sites, etc.
Paid media
Google Adwords / display ad network / Paid Per Click PPC
SEM (paid search)
Remarketing
Social media ad networks sponsored content / display ads
Define Clear Goals For Your Content Marketing Plan.
What's your aim for developing a content marketing plan? What are your goals?
Without metrics in place, it is difficult to measure the return on your content efforts. The metrics you need to add to this are those for example that will become KPIs; customer engagement, social shares, lead generation, etc.
We are always happy to help create a content marketing strategy based on your objectives and the needs of your target audience, and we can also help produce and distribute that winning content for you.