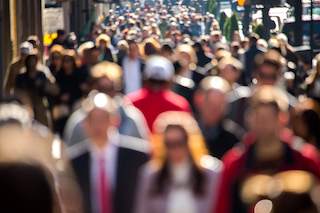 To either keep your growth momentum going, or may be even to kick-start growth, as a business you must attract new prospects in the form of leads, that you can nurture through your sales pipe-line – hopefully into a happy and satisfied customer.
The complex nature of today's B2B (Business-To-Business) buyers journey, with an increasing number of touch points across multiple channels and devices adds layers of complexities to the task of lead generation.
Adopt a "Buyer-Centric" Mind-Set
For those in sales and marketing trying to reach prospective buyers, they are up against a lot of "noise" in the marketplace. Competitors are chasing the same buyers as you, a survival of the fittest, rather than the loudest.
The sales journey has become more digital and in a recent survey, 74% of business buyers told Forrester they conduct more than half of their research online before making an offline purchase.
Buyers now are in the habit of filtering or ignoring irrelevant content or making their own efforts to self-educate. Digital has enabled and empowered buyers to change how they consume content, engage with brands and undertake their own online research.
In other words, buyers don't need to engage with you until they are ready – they have most of what they need to make a decision.
The reality is that a sales prospect will find you when they're good and ready; no matter how much effort you put into chasing them. And the more you chase, all you are going to do is build barriers rather than bridges to your customers.
Plus, digital has expanded the number of ways to connect with your audience, presenting a fragmented media landscape. With a more targeted approach to your marketing it means you can be more effective with your reach, to a more focused and targeted audience – which provides smaller numbers of visitors but who are hopefully more qualified and ready to buy.
So, in todays connected, internet driven world, it is important to make sure then that your business can be found when a sales prospect is ready to talk.
By becoming "buyer-centric" you'll present an offering that meets the needs of your buyers, as opposed to you selling only in the way that you want, and how it suits your business.
Many B2B companies are being lulled into thinking they're already doing everything right because the search ads they are investing in are paying dividends with higher visitor traffic. But, the problem is not the volume of traffic it is a lack of qualified visitors who are ready to be converted or engaged.
Visitors to a website will probably give you at most three seconds, and by then they will have either worked out whether to stay or jump off. Not good for business or how Google interprets a visitor's reaction – to rank your authority.
Recognise the Change in B2B Buyer Behaviour
With B2B buyers becoming increasingly self-reliant and digitally focused – the majority don't respond to a cold outreach, according to a SiriusDecisions Study on B-to-B Buyer Behaviour – "Up to 67 per cent of the buyer's journey now occurs digitally, shortening the actual time for sales engagement".
Digital has reshaped the buying process and is placing a strain on the traditional outbound marketing tactics and sales strategies.
Today, prospective buyers demand more from your business; they want to feel that they receive a personalised experience through-out their buying journey.
The demand for businesses to tailor their marketing in this way has spurred the need for in-depth data that goes beyond the basic demographics that most of us are used to dealing with in marketing.
Manage the "Boom and Slump" in Sales Performance
Typically, if you are experiencing a patch of inconsistency in terms of converting sales, a lack of leads in the sales pipeline or losing out to your competitors – then you are probably experiencing the following:
Over reliance on cold calling for new business development
Losing a "top of mind" positioning with prospective customers
Not knowing how to connect with leads who aren't ready to buy yet
Knowing how to nurture leads that are just starting their buying journey
There are a number of ways as a business that you can start the shift to a more buyer-centric approach that builds trust and authority in what you have to offer:
Use content marketing to educate those that visit your website
Set up lead scoring so that you work on the warmest prospects
Become a trusted "expert" by sharing insights and offering advice for free
Learn how to ask questions about your buyers needs and problems
Recognise the signs that show your prospects are ready to engage
Implement and use a sales CRM tool to manage and record your actions
And think of sales as relationship building
Address Upfront the Buying Challenges
There are typically a number of challenges that buyers face in making a buying decision, factors that your business needs to address when you are developing your sales proposition.
Some of the questions you need to prepare for are:
1. The decision challenge – does the buyer have a full and robust decision-making process in place?
2. Switching process – is the customer unsure about the costs and changes involved if they are switching suppliers?
3. VFM (value for money) – is the buyer able to measure the added value that your solution brings?
4. Requirements needed for a new system – that include implementation elements and employee training needs.
5. A prioritised list of technology requirements to help and inform a prospective buyer on how to select the right vendor.
Take Away
As a business you need to understand where customer pain aligns with the solutions your business provides.
Creating a buyer persona is one of the first steps towards understanding how your ideal buyer behaves and their digital preferences – so you know the format they prefer and where to distribute your content to get the best reach.
To make a sales impact in today's marketplace, the more appealing you can position your proposition to customers the more likely you will be able to drive visitor traffic and generate leads. An attractive sales proposition is one that adopts a "buyer-centric" view of your sales process, understanding the needs and pain of your prospective buyers – and most importantly listening rather than selling.
Let us know if you need help to develop an inbound sales and marketing strategy so that you can boost your growth momentum.