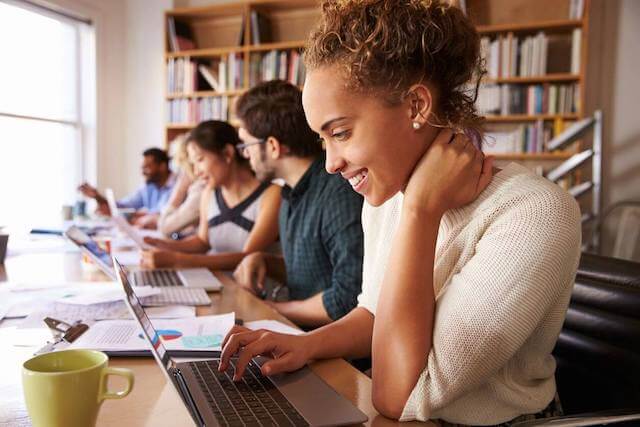 The complex nature of today's buyers journey, with an increasing number of touch points across multiple channels and devices makes it difficult for marketers to reach B2B buyers at the right moment for conversion.
In online marketing, a conversion is when your visitor takes the action that you most want them to take. Visitors to your site have the power to jump off whenever they want – which is the norm as the majority are not ready to buy but are building up their knowledge and trust in your brand. So it is important to do everything you can to make the buying journey or process as easy as possible.
A recent study by Dun & Bradstreet has revealed that there is a disconnect between sales and marketing teams, with just 17% of new leads being converted into revenue as a result.
"57% of marketers say that understanding their target audience is a big challenge, and 56% say that an inability to find relevant and complete data holds them back.
Meanwhile, 24% of salespeople say they don't have enough time to research potential customers, and 35% say they are under more pressure to provide value in a digitally-led business."
So in this post we're going to go over some of the ways you can improve conversion. Conversion Rate Optimisation or CRO is the ongoing process of making your website and landing pages to be more effective in generating leads, opt-ins, and eventually sales.
One of the biggest headaches marketers face today is generating high-quality leads for their sales pipeline. The B2B buyer can be difficult to engage using traditional marketing methods as there is a preference now for self-learning, using the internet as a reference point to build insight and knowledge.
Research from Demand Gen B2B Buyers Survey Report 2016 found that the main sources of information that buyers reference were taken primarily from their web search activities, vendor websites and insights from peers.
According to Google research, B2B buyers conduct an average of 12 searches before they engage with a specific brand's website. That means there can be between 7 – 12 touch points with a seller before a contact turns into a qualified lead, according to research from Walker Sands.
So now is a good time to ask yourself – how hard does your website work for you? Does it attract the right kind of visitors? Does your website have content that keeps visitors coming back for more? Does your website make it easy for visitors to show that they are interested and open to be engaged?
Take a look at our 13 conversion suggestions to see if there is one or more ways to help you convert more online visitors:
1) Create Multiple CTAs
While it's good practice to include a call-to-action (CTA) in your blog post for example, these sometimes fail to work because they feel like an afterthought – left to the end of the blog and often ignored. This lack of attention, coupled with the fact that website visitors don't always read to the bottom of a blog post means that you need to work on which type of CTA works for your brand, is it text and a hyperlink or an image CTA, and how many locations do you need to place it?
So whether you post something on social media, write a blog post or send an email there needs to be a clear CTA to follow. The most effective plan of action is to give your visitor a reason to follow through and click the button with assertive language and a nice graphic design or imagery that fits with your look and feel.
2) Include Lead Flows
Lead flows are high-converting pop-ups designed to attract attention and offer relevant content to the visitor. You can select from different formats such as a slide-in box, drop-down banner or pop-up box, depending on your offer and the user experience you want to provide.
It is tempting to litter your website with lead flows, but take the time to use them on the pages that offer the best chance for conversion, don't irritate your visitors with irrelevant content or in your face pop-ups when they exit the site. People need to be directed through your conversion funnel, use this as a way to nurture these leads rather than trying to sell to them at the first moment they show some interest.
3) Run A/B Tests On Your Landing Pages
Landing pages are an important part of the inbound marketer's toolkit. A landing page is where a website visitor becomes a lead, or an existing lead starts to build a deeper relationship to become a prospect. A landing page plays an important role on your website, so you should run A/B tests to make sure you know what gets the highest conversion.
You can test different factors, here are some good starting points:
Headlines
The offer details
Colours of design elements (i.e. buttons)
Button / CTA placement
Page layout / images used
Copy / bullet points
Number of CTAs and their location
Navigation links vs. no navigation links
The key with A/B tests is to change only one thing from variation to variation. You can only derive meaningful results from A/B testing if you are able to track back improvements in conversion rate to a specific change that you made.
4) Customer Value Proposition (CVP)
Customer value proposition describes the added value that you bring to your customers and that no one else can give them – it's what makes you stand out in the marketplace.
The benefits you offer need to be clear and listed in order of your product's "value hierarchy" to your buyer personas. In other words, you should know for your buyer persona what are your product's strongest benefits for them so list those first.
5) Your Website or "Shop Window" User Experience (UX)
Being found online and creating a positive website user experience are key to generating and engaging with your leads. Below are some easy to follow tips & tricks to help you make your mark for a seamless and positive user experience:
Start with the basics – Get your homepage, about us page, contact us page, and a blog up and running. Then, once you start creating content you can add landing pages to capture details of your visitors as they click on links and download content.
Designing your website – You don't need to have the flashiest website, but a basic approach that supports your business values and generates qualified visitor traffic.
Symbols and iconography – Icon visuals can illustrate a concept well and a distinctive look helps guide visitors around your site.
Text – Make sure your colours work together, always test the legibility of what you write. And be consistent with the fonts that you use across the website.
Image compression – the need for speed – Nothing kills engagement like slow load times in a world of short attention spans.
Keep your site clean and clutter-free – Keep everything simple with only your most important content highlighted and focus on a great user experience.
Design with your customers behaviour in mind – Don't forget the mobile and provide a responsive experience.
Large imagery – Images on your home page can positively impact how your visitors feel if this is what your persona research tells you.
6) What Keywords Are Buyers Using To Find Your Content?
Visitors to a website will probably give you at most three seconds, and by then they will have either worked out whether to stay or leave, never to return. Bad news for sales potential, but the jumping off actions can also have a negative impact on your Google ranking authority going forward, as they incorporate visitors search behaviour as a result of what they served up in their algorithm.
The best keywords to target are those that:
Have a high search volume (people are looking for the keywords)
Have low competition (smaller amount of results will mean your chances of ranking higher improve)
Are supported by your content (the keywords are relevant to your site)
It is easy to forget that the person on the other side of the computer screen reading and digesting your content is human – and not a robot. So when you are creating content make sure you are focusing on the person and their needs and not writing with only a search ranking position in mind.
7) Create A Sense Of Urgency
Informing your prospective customers that they have a limited time to act will help those that are in a position to buy to make a purchase decision. Typically as buyers if we face too many options, we often choose none. Too much information can lead to inaction because we are making somebody think.
So creating a sense of urgency helps to focus the mind and can help mitigate those buyers that suffer from analysis paralysis, who think about every conceivable option – but never make up their mind.
8) Optimise High-Performing Content
If you've been producing content for a while, it's likely you'll have created for example some blog posts, checklists, white-papers, e-books, etc.
Look back at what you have produced, identify those blog posts that have historically received high levels of web traffic, but low conversion rates. It could be that the content offer you're promoting isn't aligned with the blog post message, or your CTA may be being ignored or missed. Use this as an opportunity to re-position or change the content to match the message and check to see if your content optimisation is generating a better return.
9) Use Retargeting To Re-engage Your Visitors
When you look at the traffic that arrives at your website one thing that will stand out is that most people who visit don't necessarily take the action you want and they leave. By using retargeting (sometimes known as remarketing), you can re-engage people who've left your website and can continue to target an advertising message to them.
Retargeting works by tracking visitors to your website and serving them online ads with a compelling offer as they visit other sites around the web via an ad-network.
10) Using Social Proof
Social proof is the idea that buyers will change their behaviour according to what they see other people doing. But there's more to it than that according to Buffer, there are actually six different types of social proof:
Expert social proof is when an industry thought leader or influencer approves of your product.
Celebrity social proof typically takes the form of a celebrity using a product and promoting it on social media or in public.
User social proof consists of positive feedback from actual users, typically as customer reviews and testimonials.
"Wisdom of the Crowds" social proof when lots of people are using or buying a product, others want to follow suit.
"Wisdom of your Friends" social proof refers to the recommendations from people we know and trust.
Certification is when you are given a stamp of approval by an authoritative figure in your industry.
11) Celebrate What Makes You Different
If a visitor to your website can't identify your company's unique value within those first 3 seconds of being on your homepage, chances are you've already lost their interest and their business.
When visitors first arrive on your site, you need to tell them exactly what makes you different and what problem you are going to solve to help them succeed.
A good way to address a new visitor is to prominently place your value proposition to detail:
What you do
Who you do it for
How you do it differently and add value
12) Imagery & Messaging Should Be Aligned
Your imagery and text should send the same message to your target audience, your graphic design, colours and selection of imagery should back-up what you are writing about.
Your brand's unique personality should help to differentiate your business from the competition, aligning imagery and messaging will reinforce this positioning. How well you know your audience will help you to deliver an impactful message and understand
13) Learn How To Tell Your Story
Reaching and converting an audience with content is becoming harder to do. With so much content, distributed over so many fragmented channels it is tough to compete for attention especially if you play safe and produce content that is a "one size fits all".
Without having a specialist content focus it can lead to a number of scenarios. Either unqualified traffic arriving at your website and jumping off as they realise that your offer is not what they need. Or a lack of traffic because your content strategy does not resonate with prospects and the particular symptoms that they are looking to address.
Storytelling is a powerful sales tool when it connects with the right audience. Using the emotion of your company story to differentiate yourself from the competition is one way of using your public relations efforts by helping others to identify who you are, what your product is and how it will help customers.
Take Away
To have an impact with your business in today's marketplace, the more appealing you can position your proposition to customers the more likely you will be able to drive visitor traffic and generate leads.
When you are starting out with a plan there are a few simple questions that you need to address:
Why does my company/brand exist?
Why would customers use you?
How will we change the market and the world around us?
What are the values and beliefs that drive my company and guide my brand?
How will we do things differently?
Now that you have started to think about what are the critical success factors of your business, it is vital to pinpoint what are your customer's challenges or goals. What is it that your customers are addressing by using your product or service?